This grip fits the early versions of the single six (not the .32 H&R or new versions). It is a copy of one of the contemporary polymer grips which were used to create the mold. A thicker stag horn grip for the early Single Six is the Ruger_106e. You might want to take a look at it and compare dimensions with your gun's grip frame if you want a more hand-filling, thicker grip.

There are two ways you can make sure this will fit before you order:
Remove your existing grips, then...
Measure them, and compare to the specs given here. If your grips are the same or a little smaller, these will fit.
Make a pencil tracing around both grips and mail it to Tombstone Gun Grips, PO Box 2171, White City, OR 97503. Be sure to send the original, not a copy (and a fax is useless). Include all your return contact info, more than one way to reach you (email, address, fax). I can check my molds and determine if your gun fits the grips.
Of course, if you want to gamble with the shipping costs, you are welcome to order without checking. I guarantee the grips to your satisfaction, or money back for their cost but not the shipping. Other than the two methods above, I have no way to tell you if these will fit your gun (unless you want to bring it to me to measure). Ruger frames changed many times, and often shrank a different amount when the casting cooled so that even the same model might have a slightly different size. If the factory grip has a little gap, it's just par for the mass production, but if you buy a custom grip and can't get it to fit, it's not right. Best to make sure, eh? I don't mind checking if you don't mind the stamp. Remember, all Tombstone Grips are kits, 90% finished, and you will need to sand to exact size, possibly adjust the thickness to your desire, and make the alignment hole to match the pin in your gun frame. That's why even with top quality materials (3100psi poly urethane resin, heat resistant to over 350-deg.F) you only pay about half what a thermoplastic, injection molded, skeletonized grip costs (and how many of them actually fit perfectly? Most come with a quiet note that you may have to do some fitting. So why pay full price if you still might have to do the work?)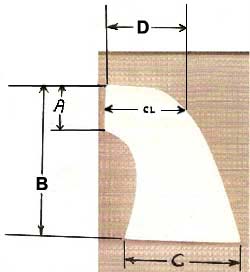 (A) top front edge = 13/16 inch
(B) overall height = 3 inches
(C) base width = 2-1/16 inches
(D) midpoint of A to back edge = 1-5/8 inches
(E) flat on the top = 1 inch