This is a smooth, 1-piece kit for Hawes large frame single action revolvers. The "default" option is for the 1-piece kit with spacer, but you can also order it as a 2-piece, screw mounted kit. Compare your gun's frame measurements to the grip measurements given below. Don't order this one if any of the dimensions on your gun are larger.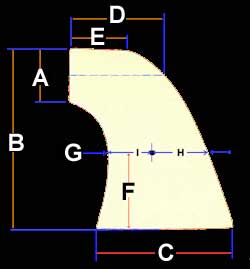 Grip dimensions:
(a) top front edge = 1.0 inch
(b) overall height = 3.1 inch
(c) width of base = 2.2 inch
(d) center of front to rear edge = 1.7 inch
(e) width of top edge = 1.15 inch
(f) height of screw hole = you tell me! Tracing needed.
Width across narrow part of the "neck" = 1.25 inch
If you want a screw mount, you have to tell me where to put the hole. It varies with different models. If you make a tracing, indicate the hole location on it. If you do order a screw mount 2-piece kit with no tracing and no info as to screw location, I'll use a template from one of the previous Hawes single action orders. It may be fine for your gun -- or not! Best to send tracing for a positive match.

How to make a tracing: remove grips, place grips on 3x5 index cards, run a sharp pencil around the edges and then mark the screw hole. Mail the cards to me along with the order number and your name, and check the box that says "I am sending a tracing". That way, I know to wait for it to come in the mail.