The Daewoo DH-380 was imported by Kimber of Oregon, and is basically a steel framed copy of a Walther PPK .380 pistol with slight dimensional differences. The grips are two separate panels, secured by one screw (provided).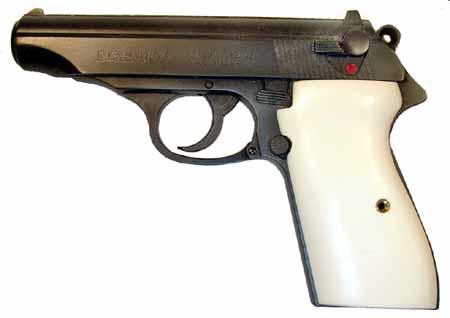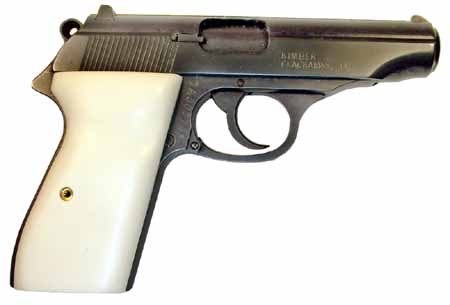 The top of both grip panels needs to have a clearance cut for the trigger linkage. The easy way to do this is with a Dremel Moto-Tool or similar rotary bit tool, using a flat-end bit. Paint the projecting metal of the trigger linkage parts with a magic marker, and press the grip against the gun to transfer a mark to the back of the grip. Then gently grind away the area under the mark, and repeat until the grip will drop down flush with the frame, and allow the mechanism to function without touching the grip.

Two thin spacer blocks are shaped to fit inside the magazine well sidewall cutouts. You will need to slightly sand their edges for a perfect fit with your particular pistol. Spread a thin layer of 5-minute epoxy glue on the back of the spacer. Press the spacer onto the back of the grip panel and then align the spacer and grip on the gun, using the mounting screw to align the grip with the gun.

When the glue has set firmly with one grip panel, remove it and repeat the operation with the other panel. Both grips should then snap fit snugly to the gun with no tendancy to rotate about the screw mounting.

Once the spacers have been mounted, you can easily sand them to be the same thickness as the frame, or slightly thinner, so that the magazine will easily slip into the gun frame. The easy way to sand the spacers thinner is to secure a piece of sandpaper on a board, and then rub the grips in circles on the sandpaper, reducing the spacer thickness. Hold the grip parallel to the surface so the spacer is sanded evenly and the edge of the grip does not drop down and hit the sandpaper.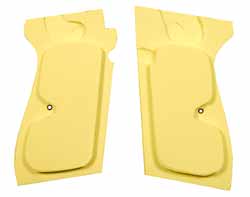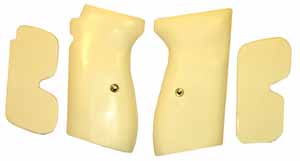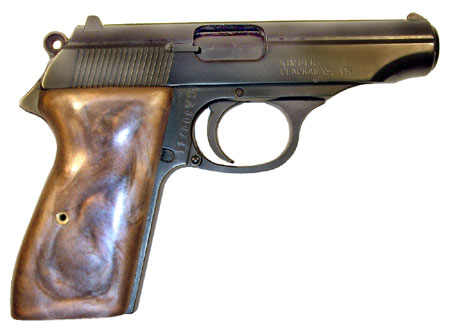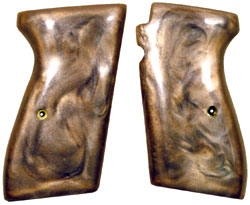 Cappuccino Pearl Grips on the DH-380, Imported by Kimber of Oregon