These Colt 1911 grips fit all the guns that have similar grip size to the Colt 1911, including Taurus 1911, S&W 1911, and the full size Kimbers, Springfield Armory, and other brands. If your gun has two mounting holes on the grips, about 3-1/16 inch apart, then the odds are very good this grip will fit.

If your gun has 2-5/8 inch spacing between centers of the mounting holes, then you need the "compact" model grips.

The maximum centerline height of the grips is 4.25 inches, and the base is cut without a slope, so that it will look good with extended magazine wells. Both top rear corners are relieved for ambidextrous safety levers, although you may need to make further relief with a small file depending on the particular gun or after-market safety.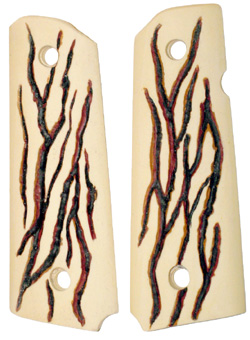 The width across the bottom screw hole is 1.6 inches. The width across the top screw hole is 1.3 inches. The top screw hole is 0.6 inches from the top of the grip, and the bottom hole is .65 inches up from the base. This grip is slightly larger (wider, longer) than the conventional grip but it fits the same, just covers more metal. You can sand it smaller if you wish.

The lines on the grip are deeply carved, with the colors molded in rather than painted on. They wear well, and act similar to checkering in keeping the gun from slipping in your hand.

These grips are about 1/4-inch thick and can be sanded to make them thinner, if you really want to. Just use contact cememt to glue a piece of sandpaper to a piece of board, and rub the grip back in circles against the sandpaper until you achieve desired thickness. You may need to deepen the 1/4-inch diameter mounting post holes or use shorter mounting posts on the gun, and lightly angle the hole edges to clear any bulge at the base of the post. It's well within the capabilities of the average 12 year old, given a little instruction.