This is another version of a Walker Colt grip (1-piece kit) that is a bit larger, to fit certain Uberti interpretations of the gun. It may work with other brands, as well.

If the other listed Walker isn't quite large enough when you compare dimensions, try this one instead.


Dimensions:
Overall height (base to top) = 3.5 inches
Height of front top "peak" from base = 3.3 inches
Width across neck = 1.1 to 1.2 inches
Width at 1.5 inches from base = 1.40 inches
Width across the base = 1.5 inches

Note: The grip has only one true, flat edge (the base) so it is not easy to measure. It is best if you remove the back strap from your gun, remove the grips, put the back strap back on, and press a 3 x 5 index card firmly against the frame to create an outline that looks just like the backside of one grip, then trace around the frame as far as you can to help define this outline.

Cut the ouline to make a template, which is the same size as the frame and represents the flat smooth back of one grip panel. If you mail that to me, I can use it as a gauge to determine the proper shape and size for your gun's grips (and allow a little extra for easy fitting).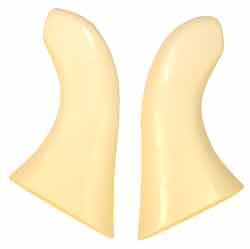 The kit consists of two panels and a spacer. Sand the two panels to match the gun frame and then epoxy glue the spacer to one panel, adjusting the position so it fits well with the grip positioned on the gun. A little masking take can help keep the grip in place while the epoxy cures. Then epoxy the other panel in place, and you have a 1-piece grip. If any epoxy gets on the gun frame, you can remove it with acetone.