This is a set of fairly thick (.6 in at base, .3 at top) grip blanks to make grips for such guns as Hy Hunter or Hawes, Heritage, and others. If you order this set, it does not come with any work done to make it fit a specific gun. It is a pair of blank generic shapes that YOU can fit and finish. Order screws or spacers separately.

The generic blanks come out of the mold, are cured in the heat treatment oven, have the edge flashing sanded off, and then are packed and shipped to you. The backs are not sanded, so you will have as much thickness as possible to work with. Usually the first thing to do is sand the backs smooth. The dimensions provided assume that the back is sanded flat, so the blank may be just slightly larger. This is the maximum useful dimension, in other words.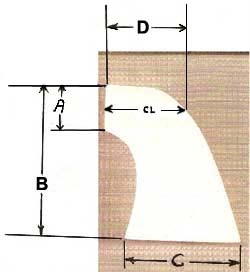 Vertical front edge length (A) = 1.1 inch
Overall height (B) = 3.18 inch
Width of base (C) = 2.1 inch
Center of front to rear edge, parallel to base (D) = 1.7 inch
Flat at the top (E) = 0.8 inch
Thickness at base in the center = 0.6 inch
Thickness at top area = 0.3 inch


You can order a No.4 screw kit or a single action spacer if desired. This listing is for one each left and right grip panel only.