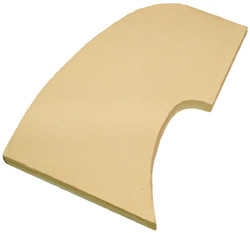 This is a large, tapered thickness blank that can be usedto make just about any size or shape of grip, but is mostefficient for making Single Action or Western styles.

PLEASE NOTE: You will need TWO of these to make a complete setof grips.

The reason for offering just one blank is so you can get anextra panel or make a replacement for half a set. It isn't veryuseful otherwise without a second blank!

The blank is tapered in thickness evenly, from about 0.35inchs at the top, to about 0.5 inches at the base. Bothsides are flat. The edges are 90 degrees to the back andstraight up and down.

Dimensions:

Length of front top edge = 1.7 inches
Over-all height from base to top = 4 inches
Width across base = 2.9 inches
Width at 2.1 inches from base = 2.1 inches
Distance from midpoint of front edge to rear curve = 2.3 inches
Length of the flat on the top = 1.3 inches
Thickness at the top edge = .35 inches
Thickness at the bottom edge = 0.50 inches
To make a grip, first lightly sand both surfaces so theywill accept a pencil line easily. Then trace around thegrip model you wish to duplicate, or a template (made from stiffpaper) that fits your gun.

Use a jigsaw or other fine blade saw to cut close to but notover this outline. Then simply file and sand the grip to shape, and slope the edges toward the center to suit yourhand size, adjusting the thickness as you wish.

Having the taper built into the blank is a big help in getting the grip made more quickly. You can modify thetaper but you don't have to sand away a large volume ofmaterial near the top. A typical range of thickness might be from 0.35 to .20 at the top, and .50 to .3125 at the base. The average is more like 0.25-.30 at the top and about 0.38-.40at the base.

You will need TWO of these in order to produce two grippanels, left and right. They are sold individually and areidentical, since you can just flip one over so it facesthe opposite direction.

A hint: to avoid getting confused andmaking a tapering edge cut on the wrong side (or making twoleft handed grip panels before realizing it), sketch across-hatch pattern on the sides of the panels that willbe the flat, back side. Then you will know not to make anyedge taper cuts into that pattern. It is surprising how easy it is to get distracted and wind up with two of thesame "hand"! This little trick seems to prevent it fromhappening even when you are tired and not paying goodattention to your work.

PLEASE NOTE: I cannot install the screw kit for you becausethe grips are not shaped for any particular gun.