This is a small, smooth 1880s era top break grip found on certain Belgian imports, mostly 22 rimfires. It may also fit small Iver Johnson manufactured hardware firm brands such as the U.S. Revolver, or even small H&R, Hopkins & Allen, or other brands with the same size of frame.

It is listed under many headings because so many contract- manufactured guns built by major name firms might use it. Also, it may fit some solid frame revolvers where the cylinder pin is removed to drop out the cylinder for reloading. It is a tiny grip and does not work well with medallions over 1/2 inch diameter. I don't recommend medallions for it, but if you want one, I will do my best to install it so it looks at least reasonably good. The tiny daisy and any 3/8 to 1/2 inch medallion is OK, but those larger such as 5/8 inch push the limits.

Really, the only way I can tell if your gun fits this grip is for you to compare measurements, listed here, or make a pencil tracing of your grip frame or around your existing grips and send it to me. There is no way to tell by the brand name or model because there were so many varieties using similar shapes and sizes.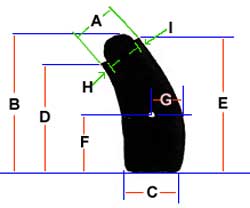 Overall height (B = E) = 2.16 inches
Height of front corner (D) = 1.5 inches
Width across top corners (A) = 0.93 inches
Front step (H) = 0.127 inches
Rear step (I) = 0.127 inches
Height of top dome above line between corners = 0.3 inches
Width across screw hole = 1 inch
Height of screw hole center (F) = 1 inch
Width of base (C) = 1.08 inches

Please note that the grip is square bottomed, more so than average, almost as if the grip was cut off to make it more easily concealed (it's just a style of the period).