This is another variation on the Hy Hunter Western Six Shooter single action grip, in stag horn. The guns were made by Herbert Schmidt (Germany) and imported under the Hy Hunter brand in the USA.

This model is available under the blanks and generic grip category because it can be modified to fit a wide range of different makes and models. It is available either with a screw mount or as a 1-piece kit with spacer. If you order here, under the Schmidt_42g listing, I'll match the top notch area to your pencil tracing so it fits your gun better with less fitting on your part.

If you don't send a tracing, I can only go by one of the tracings from someone who did for the location of the screw hole and the position and size of the top notch and relief area. Your gun might be slightly different, but without info from you (tracing showing the screw hole location, size, and the notch position and depth) I can only go with what I have and can't guarantee it will work on your gun. In theory, all guns of the same brand and model should use the same grips. Isn't theory a wonderful thing? Too bad undocumented production changes and manufacturing tolerances are not included!

Here are the dimensions of the grip before the notch and relief is cut to match your tracing: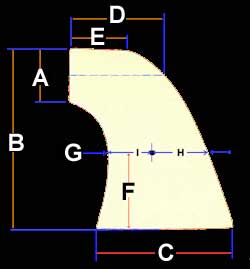 Front edge length including notch (A) = 1.1 inch
Overall height at front edge including notch (B) = 3.18 inch
Base width (C) = 2.1 inch
center of front edge to rear edge, parallel to base (D) = 1.7 inch
Top flat area including notch (E) = 0.8 inch
Narrow part of the neck = 1.4 inch
Width across area where screw normally goes = 1.5 inch
Thickness at top area = 0.3 inch
Thickness at center of base area = 0.6 inch

You can order this grip with a mounting screw installed as a 2 piece grip, or without but with a spacer as a 1 piece grip kit. If you order the 1-piece grip kit, make sure your gun has a removable back strap, or else you can't put the 1-piece kind on your gun!