This set of thin panels for the Smith and Wesson 9mm auto-loading pistol, M.469, has a 1/2-inch medallion recess where the copyrighted S&W logo normally goes. I installed a gold cross medallion in the example, but the base price is of course without any medallion installed.

I do not have a version without the built-in 1/2-inch recess. It is part of the mold. Don't order it without a medallion unless you want to mount your own! It will have a 1/2-inch diameter circular recess unless you order the optional medallions. But the grips really benefit in appearance from a 1/2 inch to 5/8 inch medallion.

You will need to use the grip screws that come with your gun. I don't have the factory screws to offer. But you might get them from S&W or from Brownell's or another gun parts firm, if you need them.

The back of these grips are sent flat. If you need to make any clearance cuts, the easy way is with a bur on a rotary hand tool.

Here are the dimensions for the grip:
Overall height = 3.43 inches
Spacing between screw hole centers = 3.0 inches
Width across top = 1.69 inches
Width across the bottom = 1.56 inches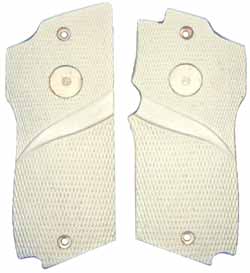 Here is the way the grips would come if you do not want a medallion installed. The recess is in the mold itself, so I don't have the grips without it already included.