This is a larger version of the 41a. Check your grip dimensions carefully, and choose the grip which is not smaller in any direction...you can always sand a slightly larger dimension smaller, but not the other way around!

If there is any doubt as to fit, be sure to send a pencil tracing around your existing grips. The correct size or nearest larger size will be sent.

Please note that a special option can be selected for a thicker left hand panel. This is simply a 0.1 inch additional swell to the lower part of the left grip panel, which some people like because it feels good against the fingertips. The grips are normally about 0.44 inches thick at the lower portion, and this option provides a 0.54 inch left panel if checked.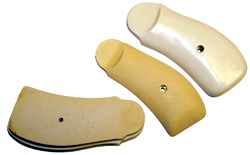 Dimensions:
Vertical height base to top: 3.7 inches
Width across base swell: 1.5 inches
Width across base flat: 1.1 inches
Width across top "ears": 1.4 inches
Width above top "ears": 1.15 inches
Minimum width near top: 1.3 inches
Width across screw hole: 1.5 inches
Height of screw hole: 1.4 inches
Thickness at base area: .44 inch
Optional thicker left panel: .54 inch
Thickness at top: .24 inch
Height of top from line drawn across "ears": .75 inch
Height of rear top corner: 3.25 inch
Height of front top corner: 2.7 inch
The photo shows the No.41b on the left, and the No.41a on the right, for size comparison. Most guns work with the 41a but a few have larger frames and work better with the 41b. If in doubt just send a pencil tracing of the original grip.