This is a smooth, larger sized round butt grip for a Beretta Laramie version of the Smith & Wesson top break 44 No.3 revolver (and it may fit other brands as well: compare the specs, send a tracing to make sure).

The dimensions are: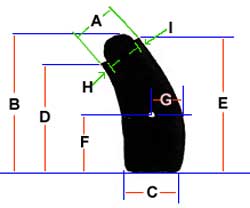 Width across the top "ears" (A) = 1.35 inches
Width across the base (C) = 1.3 inches
Width at the screw hole location (G) = 1.6 inches
Steps at the top (H and I) = 0.2 inches
Height of round top above a line between the ears = 0.35 inches
Height of grip from base to rear corner (B, E) = 3.3 inches
Height of grip from base to front corner (D) = 2.5 inches


The grips normally come with an grip screw kit installed and included in the price. You can opt out of this and just have the screw sent in a package, not installed, if you want to use some other mounting kit instead.

Be sure to compare the dimensions, and send a pencil tracing around either your gun's grip frame, or around your existing grips (show the screw hole location also). When you send a tracing, be sure to write the order number on it. If you send the tracing before you order, please note "no order entered" on it so I won't waste time searching for it. I can check and make sure this grip matches your tracing, which means it probably matches your gun (or is large enough so that you can easily fit it by sanding the edges to match). There are several variations on the Beretta Laramie, and not every grip that fits one of them will fit the others.