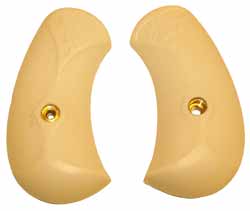 This small grip has fine checkering and a bird's head shape. It fits the old spur-trigger, top-hinged swing-up barrel No. 1-1/2 .32 revolvers made by Smith and Wesson (at least it fits some of them -- measure your gun frame and compare before ordering!

I don't list medallion options for this grip because the size and shape really don't allow for it. It has a rather steep curved profile with a peak in the middle. Even a small medallion would be very deeply inset in the vertical plane to get the edges covered in the horizonal plane...just not a very good option to offer.

If you measure from the center of the top curve, down to the tip of the "bird beak" at the base, you should get 2 inches. If your gun is bigger, this isn't the right grip for it.

Across the "Points" at the top (ends of the curved top) the grip measures 0.85 inches.

The tallest measurement (middle of the top to about the middle of the bottom curve) is 2.25 inches.

The height of the screw hole isn't terribly important, as it will clear the spring if it is off a little, but on this grip the hole is about 0.95 inches from the "bird beak" tip, and 0.45 inches from the front edge.

Across the center of the screw area, the grip measures about 0.95 inches wide.

From the top rear "corner" where the curved top starts, straight across to the tip of the "bird beak" at the lower front, the grip measures 2.1 inches.

Of course, the best thing would be to make a pencil tracing or cut a stiff paper template which fits your gun, and mail that to me. Faxes and photos are nice but they do not give me actual, precise dimensions. A photo copy machine normally shrinks or distorts the size enough to cause problems. But if you make a photocopy and cut it out, hold it on the backside of your grip, and it matches, fine, you are welcome to use that instead of a tracing. I'll just assume you know it fits and is the right size. Then I can match whatever you send me to the grip. If it is the right size (or if the grip is slightly larger) then we have a match. You can always sand smaller to make a larger grip fit, if it isn't too much larger.