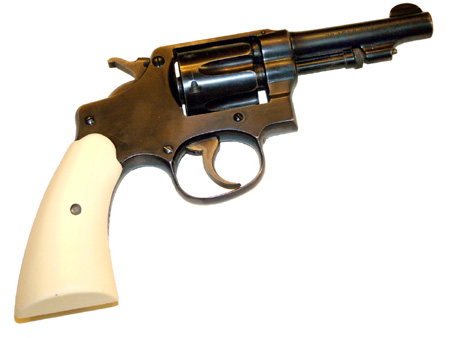 This set of grips fits the same gun as the 100c Regulation Police (.32 S&W Long, Round Butt). The gun is made with a rounded butt frame, but was supplied with an extended grip that was shaped like a square butt. This gives the shooter a more positive hold, and was sometimes called the "target grip". The same I-frame design was made in many versions over the years, but most of them did not have the stepped back strap. This is a mark of the later Regulation Police Hand Ejector models.

Dimensions:

Base Width = 1.6 inches
Height, top rear corner to base = 2.9 inches
Height, top front corner to base = 2.3 inches
Width across top corners = 1 inch
Height of round top above line joining corners = 0.3 inch
Thickness at base = 0.6 inches
Width of rear top step (to round top) = 0.15 inch
Width of front top step (to round top) = 0.175 inch
Width of insert at widest part = 1.7 inch
Height of insert rear leg = 1.6 inch
Height of insert front leg = .5 inch
Thickness of insert = 0.35 inch
To asssemble and fit these grips, first fit the top of the grip properly into the frame. Paint the tip of the alignment pin with a Magic Marker, align the grip top and carefully press the grip down against the gun. This marks the exact spot to drill the alignment pin hole.

Carefully drill the hole slightly deeper than the alignment pin projection. Snap the grip onto the gun and mark any areas around the edge where the grip projects beyond the frame. Sand these flush with the frame, using a fingernail sanding board.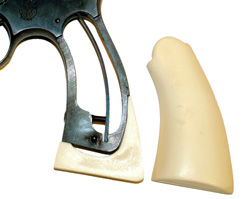 When both grips are properly fitted to the frame (which can be covered with a single layer of clear tape, to protect it from accidental brush with the sanding board), remove any tape. Fit the spacer to the lower rear of the grip frame and bottom of the grips. Sand the spacer to exactly the thickness of the frame.

Wipe a film of Vasoline on the grip frame, mix some 5-minute epoxy, and glue the spacer to one (and only one) grip panel. When the epoxy cures, remove the grip and spacer, and wipe the Vasoline from the gun. Mount the grips (both panels) and secure them with the screw. Then sand the projecting spacer even with the bottom and lower front of the grips, so the spacer and grips blend together.

To make the bottom more rigid, drill a small blind hole in both the spacer and the unattched grip panel, so that a pin can be inserted into the spacer. The pin should then project far enough to engage the hole in the grip panel, eliminating any tendancy for the lower part of the grip to shift relative to the spacer.