This smooth grip is for the Smith & Wesson top break 32 caliber pistols with frames smaller than the "I" and "J" style. However, gun makers often used up parts from one model when they made improvements or model changes by combining new lockwork, barrels and cylinders with old frames or vice versa. So, it may also work with some .38 caliber or even .22 caliber guns.

Likewise, gun makers used to produce models for hardware companies and other large buyers using whatever brand or grip style that the buyer wanted. You may be able to use these grips on certain other models as well as the one for which it was intended. The only good way to know is first compare size, and if it is close to your gun frame, send the tracing as described so I can make sure the grip will work.

I show one in ebony color, but of course you can get them in any color from the drop-down menu, or in any of the special effects from the pearl/effects menu. (All grips can be ordered with any solid or translucent color listed).

Be sure to compare dimensions with your gun, or make a pencil tracing around your existing grips or gun frame, on a 3 x 5 index card. Indicate the screw hole. Mail the tracing to me, and I can compare it to the mold and see if your gun is a close enough match.

Patterned after a Jay Scott No.151, the dimensions are as follows: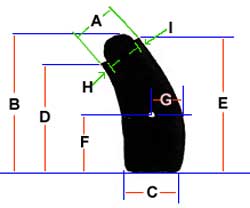 Overall height (E = B) = 2-7/32 inch
Height to front corner (D) = 1-11/16 inch
Width across top corners (A) = 25/32 inch
Front step (H) = 3/32 inch
Rear step (I) = 1/8 inch
Width across base (C) = 7/8 inch
Width across screw hole center = 1 inch
Height of screw hole center = 1-1/8 inch
Height of domed top above line connecting corners = 0.25 inch

This grip is a good choice for pearl effects, better than checkered ones, because the patterns show up so much better. It is too small for most medallions to look good. The tiny daisy or any medallion of 1/2 inch or smaller diameter will work. Others will take up too much of the surface area and project above the surface on both sides.