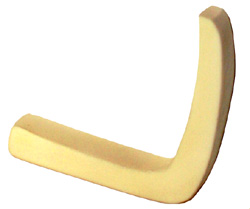 The 145b version is especially made for I-frame revolvers such as the 2nd Model Single Action in 38 S&W caliber, S&W Perfected Model in .38 S&W Cal., S&W .38 New Departure, Hammerless in .38 S&W cal., S&W 38 Double Action in .38 S&W Cal., and S&W Regulation Police Model in .38 S&W Cal.

The .32 S&W caliber guns usually have smaller frames and take a smaller grip. Send a tracing if you are not sure about the size, as both 38 and 32 sometimes used the same grips.

Note: Although not shown, the grips come with a screw kit installed and have the universal length screw supplied, by default.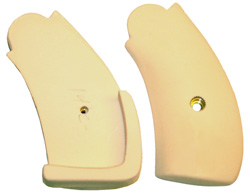 The Regulation Police has a step in the back strap, and was normally sold with an extended, square-butt set of grips that had a filler converting the round butt frame to use a square butt grip. IF YOU CHECK THE BOX I will send a filler that lets you use the grips on the Regulation Police, to fill in the small step and go across the base. You can simply sand the filler to fit your gun, and epoxy it to one of the grip panels. Then drill a small hole in the other end of the spacer, press a small pin into it (or use a small piece of cut-off coat hanger wire with the end sanded smooth, and make another hole to accept the end of the pin in the back of the other grip panel.

Then, when you attach the grip with the spacer, there will be a solid back and base area extending beyond the grip, but you'll still have a nice round butt grip. The other grip panel can be aligned, pressed gently into place, and the pin will engage the panel at the bottom so it will be quite strong. Both panels also engage a factory alignment pin (you need to mark and drill the shallow hole in both grip panels to match your gun exactly -- mark the pin with a "Magic Marker" and press the panel against it to indicate where to make the little hole).

It's not hard; you just need to go slowly and not take a power sander or dril to it! Take 30-45 minutes and you'll have a beautiful fit even if you never did it before. Use a fingernail sanding board, coarse and medium grit, to shape the spacer and grips for a good match. Put the grips on the gun every time you take a few passes, as you get closer to finished. That will keep the project simple and insure that you stop when you reach a good fit, instead of rushing past it (like impatient people seem to do!).

Here are the starting dimensions for the grip: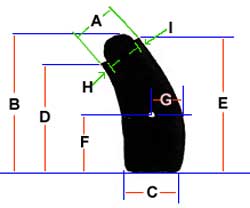 Width across base (C): 1.1 inches
Height of front corner from base (D): 1.8 inches
Height of rear corner from base (E): 2.6 inches
Step at top front (H): .14 inch
Step at top rear (I): .19 inch
Height of round top above step line: .275 inch
Thickness at the top: 0.2 inch (aprox)
Thickness near base: 0.38 inch (aprox)
Width across top ears (A): 1.09 inch
Height of screw hole (F): 1.085 inch
Width across screw hole: 1.24 inch
Rear edge to screw hole center (G): 0.618 inch


Please note that the screw hole location doesn't have to be exactly the same as your gun, as this doesn't match any specific holes in the gun frame. It just needs to miss the hammer spring, and it probably will if it is anywhere close to the dimension shown.