This is a smooth set of grip blanks without holes, soyou can sand and produce your own set of grips for variousI-frame and top break guns. These may work with otherbrands as well, so they are also listed in "other brands"category.

The grips are furnished with a screw mounting kit, notinstalled. You can order medallions to go with the grips,but they cannot be mounted before the grips are shapedand finished.

Since this blank is provided so that you can shape it yourself,there is no need for a tracing or hole location (you can makethe hole as needed after shaping the blanks to your gun).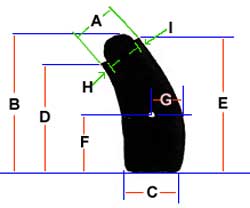 Specifications:
Width across top (A): 1.05 inches
Height to front corner (D): 2.125 inches
Height to rear corner (E): 2.75 inches
Width at 1 inch from base: 1.2 inches
Front top edge (H): 0.1 inch
Rear top edge (I): 0.3 inch