The Regulation Police is an I-frame revolver. The first versions were chambered for the .32 S&W Long, but this set of grips is for the later versions which were chambered (often) in the .38 S&W round. There is some difference in grip size depending on the specific version and year, so be sure to measure your gun and compare specs (or send a tracing to be sure).

Sometimes the grips were wrap around target style, converting the round butt frame with an extended square butt grip.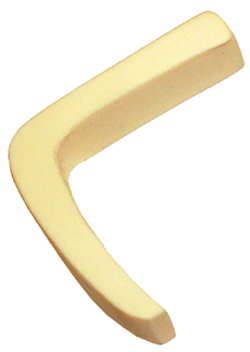 But other times, they were round butt with a small filler in the back and across the base. These are the grips that would work with or without the filler. You may have to sand the base shorter for frames that don't use the filler in the lower backstrap and across the bottom. If you need this separate little filler, shaped like an L, check off the box and I'll include it. This is a shorter grip with small spacer compared to the longer 100c version for the .32 Reg.Police.

You would sand this filler to fit your particular frame, fit the grips to the frame, and then epoxy the L-shaped filler to one of the grip panel backs. After the epoxy cures, you can then mount the grips on the gun and carefully sand the edges so that the filler will match both grip panels perfectly when mounted.

This is also a way to convert guns to use the rounded butt when it originally came with a big, wrap- around style square base grip. Makes a more trim, neat and easily carried gun.

The grip size is:
Width across the base = 1 inch
Width across the screw hole = 1.1 inch
Height of the screw hole = 1.2 inch
Height of front corner from base = 1.9 inches
Height of rear corner from base = 2.56 inches
Width across top corners = 0.95 inches
Diameter of logo circle = 0.65 inches
Width of front step = 0.1 inches front edge to logo
Width of rear step = 0.15 inches rear edge to logo
This grip is very similar to the 141a. You need to make a pencil tracing around the grips and send that to me, to make sure you are getting a size that will work on your particular gun. If you want to send original grips, that would help, but be sure to insure the shipment.

Please note that I also have a slightly larger "universal" I-frame and top break revolver grip, smooth, that I may be able to sand to fit more closely if your gun uses a slightly larger grip. I also have a square-butt extended "target" grip for the .32 Hand Ejector (Regulation Police Model, post 1920 vintage but with 1917 patent stamp on original wood grips -- cylinders were heat treated after 1920).