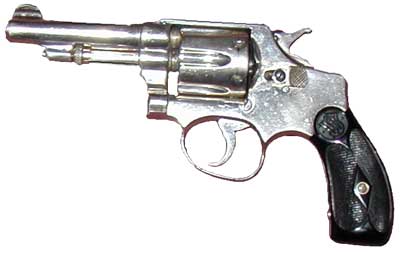 Smith and Wesson I-frame's sometimes use the same grip size and shape as certain versions of J-frame and even some of the break top revolvers. Check your gun carefully for grip size, and send me a pencil tracing around the grips or an index-card cutout template that fits the gun like grips, so I can determine which of the many similar S&W round-top grips your gun would take.

The dimensions of this set of grips are:
Width across the base = 1.1 inches
Width across the screw hole = 1.125 inches
Height of screw hole = 1 inch from base
Height from base to front corner = 1.8 inches
Height from base to rear corner = 2.5 inches
Width across top corners = 0.95 inches
Diameter of logo circle = 0.65 inches
Width of front step = 0.1 inches (edge to logo circle)
Width of rear step = 0.2 inches (edge to logo circle)
If in doubt, be SURE to mail me a pencil tracing or even the original grips if you insure them. There are a lot of variations, and you can't always go by the model.