These grips are made for the Smith and Wesson 32 Regulation Police (32 Hand Ejector with stepped backstrap), model which normally has an extended square wooden grip marked with a 1917 patent date (1917-1942 production).

This is similar to the S&W I-frame (145b) for the .38 S&W Regulation Police. In some cases, a .32 and a .38 might have been built to take the same grips. But the 145b has a shorter butt. It does not extend as far below the metal frame. If you prefer a very short grip, the 145b with spacer may be suitable. It was actually designed using a .38 S&W caliber regulation police, whereas this grip was designed using a .32 S&W Regulation Police (one of the last versions made prior to WWII).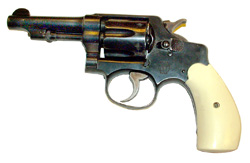 The round butt grips extend beyond the frame. An L-shaped spacer fits the notch in the back strap, and covers the lower grip frame from that point downward, across the bottom, and partly in front. The spacer is notched inside so that variations in the grip frame do not have as much effect on the shape or fit. You need to sand the spacer to fit the particular gun as precisely as you can, including the thickness. Then the two grip panels are fitted to the top (first), the locating pin hole is made by touching the pin tip with a marker pen, and pressing the grips carefully into position to mark the hole location. Then the hole is drilled, and the grips snapped onto the gun and sanded to exact fit except across the bottom.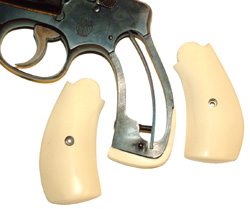 The bottom doesn't matter yet. It only has to match the outline of the spacer, or more accurately, the spacer bottom is sanded to be flush with the grip bottom. Once the grips are fitted to the gun, the spacer is secured with a film of epoxy glue to the back of one grip panel and allowed to cure in place. It cannot be secured to both grip panels, since the alignment pin would prevent removal! Fortunately it does not need to be secured to both, but you can use a small steel dowel pin and make a shallow hole in both the spacer and the unsecured grip panel, so this pin secures the bottom area of one panel to the spacer (against any side to side movement). The grip screw will clamp both panels firmly together on the gun.