This single action grip could also be used for some versions of the Colt 1873 Model P Single Action Army. It is available in either a screw mount 2-piece kit, or a 3-piece kit to make a one-piece grip. As with all grips, the most important thing is not the name or model, but the dimensions. Be sure to compare with your gun, and send a tracing as described on the tracing page.

Here are the dimensions: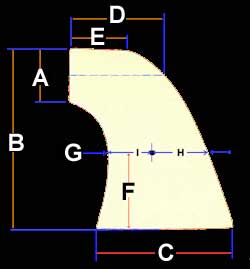 Front edge height (A) = 1.0 inches
Overall height (B) = 3.1 inches
Width of base (C) = 2.2 inches
Distance from center of front edge to rear edge (D) = 1.7 inches
Width of top flat (E) = 1.1 inches
Distance across neck = 1.3 inches
Thickness at top = 0.3 inches
Thickness at base = 0.52 inches
This is a somewhat thicker design of grip than most of the factory Ruger grips, for folks with somewhat larger hands or longer fingers! But it works well for the average size hand as well.