This is a larger sized grip kit with enough additional material for most of the variations of Blackhawk, Single Six early models, and Vaqueros. It still might not have the proper curve or neck to fit every single variation, so send a template or a tracing to me and I'll check to make sure this one is OK for your gun.

Grip kits are sent flat backed. Many Ruger single actions need to have a shallow angled notch filed on the back, at the top corner, to clear a reinforcement on the frame. Most Ruger single actions have a solid pin projecting from the bottom part of the frame, which fits a hole in the back of the grip. This hole should be made after you have fitted the grip size to the gun at the top, and after you have made sure the grip is long or tall enough so it will fit from top to bottom, and wide enough to be fitted side to side.

Once the hole is made, you can then finish the sides and bottom with the top firmly in place. A layer of clear tape placed on the gun frame will protect it as you sand carefully with a fingernail board until you just begin to scruff the surface of the tape. Then remove the grips for a final light polish to take the edges down perfectly to match the frame. This can't be done from a distance: you need the gun in hand, which is why Tombstone Grips can be fitted so well by you, rather than being generically sized and almost-right by someone who doesn't have your particular gun, but only a general example of it.

A light sanding and buffing, detailed in the instruction paper sent with every grip, will remove any surface lines and create the desired finish (smooth, or with fine grain pattern like real ivory, as you wish).

Compare the grip size to your gun. If the grip is smaller do not order it! If the grip is larger, that's good. You want a little room for fitting.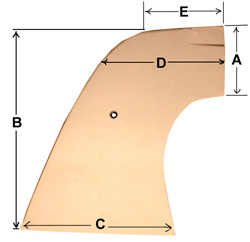 Grip dimensions:
Height of front edge (A) = 0.95 inches
Overall height (B) = 3.08 inches
Width across base (C) = 2.37 inches
Middle of front to rear edge (D) = 1.92 inches
Height of screw hole center from base = 1.62 inches
Screw hole center to front edge = 0.85 inches
Width across screw hole = 1.55 inches
Thickness at screw hole = 0.37 inches
Thickness at top edge = 0.29 inches
Thicknes at base = 0.50 inches
Lenght of top edge (E) = 1.27 inches
The grip is as you see it, smooth. It looks very nice with pearl, wood or amber effects.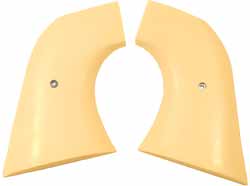 Aged Ivory