This is a generic Ruger Blackhawk/Vaquero or Colt 1873 SAA oversized grip kit which extends the length by a half inch. Perfect for folks who have large hands and need a better hold on their gun than the factory size grip. The two grip panels can be ordered with a back-strap spacer, for assembly into a 1-piece solid grip for Colt revolvers, or as two grip panels with a mounting screw kit installed for any single action Colt or Ruger. Both kits use an extended length grip. The space below the gun's grip frame is filled with an extended grip spacer, which you epoxy glue to one grip panel. Two short screws are used as alignment pins to secure the other panel from movement as soon as the grips are installed (optional).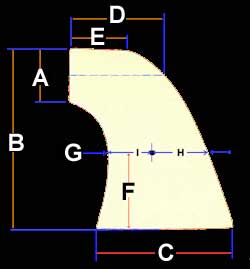 The grip dimensions are:
Height of front edge (A): 1.05 inches
Overall height of grip (B): 3.70 inches (including 0.55-in extended past gun frame)
Width of the extended base (C) 2.72 inches
Center of front edge straight back to rear (D): 1.85 inches
Top edge of grip (E): 1.10 inches
Thickness at the base: 9.56 inches
Thickness at the top: 0.34 inches
Width across narrow part of the neck: 1.5 inches
As with all grips but especially single action revolvers, you need to make a tracing, cut it out to fit your gun, trim it up so it is a nice fit, and send it to me in the mail in order to assure that the grip will fit properly. Or rather, that it will be large enough so YOU can sand the edges to a perfect fit. If you don't, all I can do is send what you order without any way to know if your gun frame is the proper size for it. This is a generic size that fits many, but not all, Colt and Ruger frames with a little sanding.