These grips fit either the Mark II (as is) or the Mark III (by making a small notch on the front left grip for the magazine release button). They are relieved at the bottom for quicker removal of the magazine, and have a pronounced thumb rest on the left grip, with anatomical finger guiding surface on the right grip (not grooves, which can disturb a particular size hand's grip).

This is a grip for target shooters who prefer not to use a palm rest, similar to US Army Pistol team, but who like the better fitting style of grip which normally comes with a palm rest.

You will probably need to do a little work with a Dremel on the backs, although 90% of the relief work has been done already. The screw hole depth may or may not be the same as your existing grip screws require, but generally you can simply deepen the hole if the screws are not quite long enough (best to turn the bit by hand in drill press or use a t-handle chuck, to avoid drilling to fast and deep by mistake). Screws are not provided. If you need extras you can get them from the Ruger on-line parts store or most any gunsmith shop.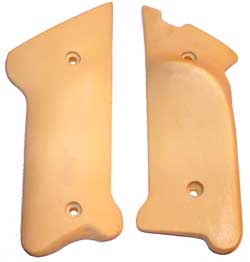 You can use a round file or wrap 220 grit abrasive paper around a dowel to make your own finger grooves, if you wish. There is enough material so people with large hands will have a comfortable grip. Smaller hands may benefit by reducing the grip thickness, simply by sanding the back side.