This is a Ruger Bird's Head grip modeled from a factory smooth grip with logo, taken from a Ruger Single Six in 32 H&R caliber. It may not fit any other Ruger, so check the dimensions or send that important tracing I always ask folks to make and send in. It's easy, just remove your existing grips, place them on a 3 x 5 index card, and run a sharp pencil around them! Mark the screw hole by poking the screw through the hole until it dents or marks the paper, then use a pencil to make the dent show up a little better.

People ask me if a certain grip will fit their gun or not. I don't know. I don't have the gun to measure. But you do. Just compare dimensions with those given for the grip. Or send the tracing and then I can cut it out and hold it up to the back of the grip, and see if it fits!

Here are the grip dimensions: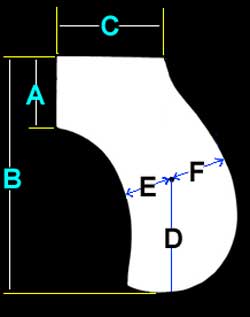 Front edge (A) = 0.9 inches
Overall height (B) = 2.8 inches
Width across top (C) = 1.25 inches
Middle of front edge to back edge = 1.8 inches
Height of screw hole straight down to base = 1.6 inches
Width of grip 1-inch above base = 1.5 inches
Width of grip across screw hole = 1.5 inches
Back edge to center of screw hole = 0.65 inches
Top corner to tip of "beak" = 3 inches
Lower corner to tip of "beak" = 2.2 inches
Please note that all the width measurements are taken parallel to the top edge, not at some other angle. The corner to "beak" measurements are taken at angles and the line of measurement doesn't stay entirely on the grip. The "beak" means the little pointy corner at the very bottom of the grip.

Please note also that the diagram is a generic one, and this grip has one big difference: it does not curve inward at the top rear edge. It simply makes a big curve from the beak all the way to the top edge without a change in the direction of the curve. That is somewhat unusual as most "Colt Lightning" bird's head styles have a compound curvature near the top rear corner.

Please Note: The grip is made in a mold with the logo built in, so I cannot magically make it disappear. If you would like this or any other grip with a different appearance than you see in the picture for logos, checkering, etc., order the grip from the page where you see it listed. If you write in the "note" to "make it without the logo", that is the same as telling me to make it out of lima beans or stud it with diamonds -- it ain't gonna happen regardless of the note.

Most folks read the messages I put on the terms of sale page and main pages and understand that, but every so often someone ignores all that and 0gets mad because they got exactly what they ordered, exactly as it looks, instead of something else that would require a different mold and is a different model.

If you don't see the particular style listed that you want, it means I don't have a mold for it yet. At some point I may, if there is enough demand. Meanwhile there may be a generic grip or a blank that would work for you.