This staghorn grip fits a number of versions of the Ruger Blackhawk or Vaquero grip frames. Just send a tracing of existing grips, or compare the dimensions carefully with your gun before ordering, to make sure this grip will work with your version of the model.

The same grip also fits some of the Colt Single Action clones, so the grip can be ordered as a two-piece screw-mount or as a 1-piece kit with spacer. The default option is the screw-mount 2-piece kit.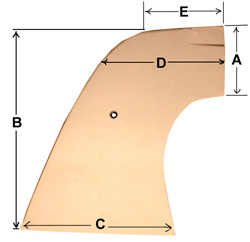 Grip specs:
Height of front edge (A) = 1.1 inches
Overall height (B) = 3.125 inches
Width of base (C) = 2.3 inches
Front center to rear (D) = 1.75 inches
Top edge length (E) = 1.2 inches
Width across narrow part of the neck = 1.3 inches
This grip is similar in size to the Colt_50c which is a generic Ruger or Colt Single Action smooth grip.