This is a somewhat wider top, wider base generic single action grip, which fits some of the Ruger Blackhawk, Vaquero, and similar revolvers, and also fits some of the Colt 1851 Navy clones (go figure!).

As always, if you want me to give you a return warranty based on fit, you have to make and send me a tracing. Then I have a way to determine the size of your gun frame. Otherwise, it's up to you to measure and compare with these specs: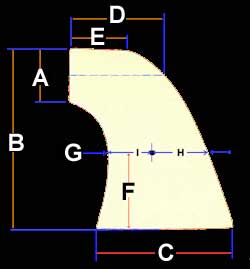 Front edge length (A)= 1.05 inches
Overall height (B) = 3.3 inches
Width across base (C) = 2.45 inches
Midpoint of front edge to rear edge (D) = 2 inches
Top flat area (E) = 1.3 inches
Narrow part of the neck = 1.45 inches


You can order this with or without the screw mount, as a two piece kit, or as a one-piece grip kit consisting of two panels and a spacer. I need a tracing with the screw hole clearly marked, or else I just have to use whatever worked for the last Ruger BH. That may or may not be the same as yours, as they do vary a bit.