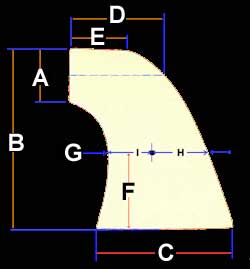 (A) Front edge = 1.1 inches
(B) Overall height = 3.125 inches
(C) Base width = 2.2 inches
(D) Width, front midpoint to rear edge = 1.9 inches
(E) Top flat = 1.1 inches


The European American Armory (EAA) Bounty Hunter .45 Colt is a German-made Colt 1873 style single action revolver. These grips can be ordered as a 3-piece kit (to make 1-piece grips) or as a 2-piece kit (with a screw mount). Be sure to carefully read and check the correct boxes above!

If you select a 3-piece kit, you get two panels plus a spacer to make a 1-piece kit for guns with removable backstrap only. This does not work on solid frames without the removable backstrap.

If you order the 2-piece kit, then you get two grip panels with the screw mounting nut and ferrule installed. This kind of grip works on any frame, whether or not the backstrap is removable. It is the default choice.

If you don't want me to install the screw kit, use the note to tell me not to, and I'll send two panels without any holes, and send the screw kit along with it but not installed. (Why? I have no clue, but some people want me to do that so I will if you ask.)

The 3-piece kit is assembled, by you, to make a 1-piece grip. Instructions are sent with the grips. If you order a 2-piece kit, with screw mount, then no spacer is sent. If for some reason you want one anyway, use the note to ask for a spacer plus the screw kit. No need for the spacer, but you can put on one panel if you feel like it.

The size of the gun frame may or may not be identical to] the one used to make the mold for these grips. Check the measurements before ordering! If the grips are larger than your gun frame, no problem. You can easily sand them to fit. If they are smaller, don't order them. You can't make them larger.

These grips are ONLY available as shown or in any of the colors and pearl effects on the drop-down menu. They are NOT available with checkering, carving, stag-horn effect, or other modifications except for medallions, which can be selected from the menu above. If you want checkering, stag-horn, etc., order a grip that shows those features. The features you see are what you get -- all are part of the mold for a specific number. The grip number is the mold number that makes that grip.