This is a slightly oversized and smooth version of the Bersa 380 Thunder grip, with greater thickness than the factory plastic or rubber grips (about 0.25 inches).

This grip is far nicer looking than the checkered or patterned ones when used with a pearl effect. You can see the swirls and patterns better on a smooth grip.

The grip is secured to your gun using the factory screw, one per panel. Tombstone does not have replacement screws but you can get them directly from Bersa.

This grip is not for the Bersa 380 Thunder CC model. Those grips are scalloped and fit the special concealed carry model frame. These do not. Be sure you know which gun you own and order the proper grips for it.

Here are the grip dimensions:
Width across the top (right) = 1.6 inches
Width across the top (left) to notch = 1.4 inches
Width across screw hole area = 1.63 inches
Width across the base = 1.64 inches
Height from top to base at right angle = 3.46 inches
Height of screw hole center from base = 1.65 inches
Screw hole center to rear edge = 0.52 inches
Length of top notch on left grip = 0.55 inches
Height of top notch on left grip = 0.288 inches
Thickness of left grip at top edge = 0.142 inches
Maximum grip thickness = 0.251 inches
Average hole diameter, for head = 0.274 inches
Average hole diameter, for shank = 0.180 inches
Thickness of grip under screw head = 0.115 inches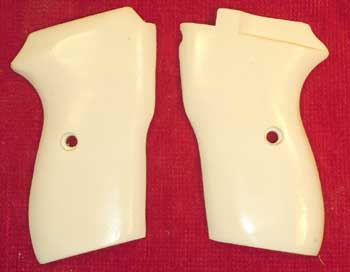 Note: If you choose a medallion, it will be installed so it is centered side to side, and half way from the base to the height of the screw hole. This is the most flat area on the grip, where the medallion won't stick up beyond the curve of the surface at the edges. Mounting it up where your thumb or trigger finger would be puts it in a curved area, so that it can't be level with the surface all the way around. You can request mounting anywhere if you want to send a tracing and draw a circle of the approximate size for the medallion you choose, but the edges of the medallion will only be even with the grip surface if the area you select is flat enough: smaller medallions fit better where the surface is curved than large ones, but all of them fit best where the grip is flattest.