The Beretta Laramie is a reproduction version of the Smith and Wesson Schoefield Revolver (No.3). The grips are slightly different shape and size from certain other copies. You can order with or without screws installed. If you don't want the holes drilled, select no-holes. Otherwise I will install standard mounting hardware. I install brass ferrules in the holes and provide the screw.

Please refer to the size chart and compare to your gun before ordering! Not all copies use the same grip dimensions even if they claim to be copies of this famous Smith and Wesson revolver. If your gun grip is smaller or the same, these should work fine. If your gun grip frame is larger, then these grips won't work...
"A" = 1-13/16"
"B" = 1-11/16"
"C" = 3-3/16"
"D" = 1-1/4"
Width across points at the top = 1-1/4 inch
Width of each step at the top = 3/16 inch
Width across the rounded top's base = 7/8-inch
Height of screw hole center from base = 1-1/2 inch
Distance from rear edge to center of hole. measured parallel to base = 11/16 inch
Distance to inside sharp point measured 90-degrees from base line = 2-3/8 inches
Width across the flat on the base = 1-1/4 inch
Width across base about 1/8 inch higher than base = 1-3/8 inch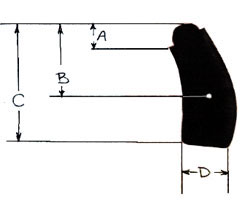 The auction includes two grip panels. I also install hardware. You can order many optional colors of pearl, metallic, or solid colors. You can also replace the logo with a 1/2-inch size medallion such as the gold star or gold cross sold separately.