This is a pair of US Marines gold on red "ribboned" background with the logo of the Corps in a solid 3/4-inch cast and enameled medallion. The medallions can be shipped to you for your own installation or will be installed free if ordered with a set of grips.

If you order separately, and not on a drop-down menu with a grip, please indicate if you want the medallion installed on a particular grip or just want the pair sent to you.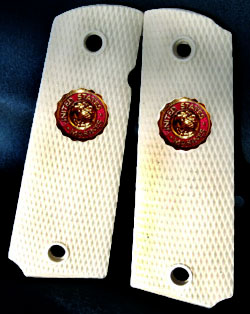 Diameter: .7465 / .760 inches
This medallion is too large for some revolver grips.