Remington Stag Horn 1858 2-piece Grips for Uberti, Pietta, Remington New Army 44, and others.

These fit many of the Pietta and Uberti clones, but there is enough difference even between the same models that you need to carefully measure your grips and compare to these dimensions before buying...

Check the dimensions of your gun grips to see if these will fit. Letters refer to diagram below: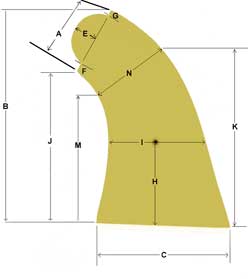 (A) Width across the top edge, corner to corner: 1-1/4 inch
(J) Height from baseline to lower top corner: 2-3/8 inches
(B) Height from baseline to higher top corner: 3-7/16 inches
(H) Height from baseline to screw hole: 1-3/8 inches
(I) Width parallel to base at screw hole: 1-11/16
(C)Width of base: 2-1/4 inches
If in doubt, send a pencil tracing around your existing grips or grip frame, or make an index card cutout template which fits against your gun just like the grips should, and send that. It can be used to find the right mold.