Remington Smooth 1858 2-piece Grips for Uberti, Pietta Remington New Army 44, etc.)

These fit many of the Pietta and Uberti clones, but there is enough difference even between the same models that you need to carefully measure your grips and compare to these dimensions before buying...

Letters refer to diagram below:
(A) Width across the top edge, corner to corner: 1-1/4 inch
(J) Height from baseline to lower top corner: 2-3/8 inches
(B) Height from baseline to higher top corner: 3-7/16 inches
(H) Height from baseline to screw hole: 1-3/8 inches
(I) Width parallel to base at screw hole: 1-11/16
(C) Width of base: 2-1/4 inches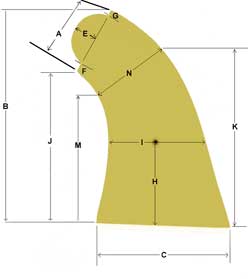 The best way to assure a good fit the first try is to send a pencil tracing around your existing grips, or around your gun's grip frame. A pencil tracing sent by mail gives a very close dimension and shape chart. A fax or photocopy may look nice but all electronic reproduction tends to distort the size a little, and is useless for measuring.