This is a staghorn pattern Remington 1875 New Army (also called the "Outlaw" model). It is nearly the same size as the smooth model 61a. Here are the dimensions: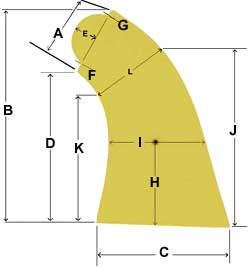 Overall height (base to top rear corner) B = 3.5 inches
Height to front top corner D = 2.3 inches
Width across base C = 2.1 inches
Width across top corners A = 1.3 inches
Height of rounded top E = .35 inches
Depth of front step F = 0.1 inches
Depth of rear step G = 0.2 inches
Width across neck L = 1.5 inches
Width across screw hole I = 1.825 inches
Height of screw hole H = 1.1 inches


Either compare the dimensions carefully to your existing gun grip or frame, or make a template by tracing the outline of your existing grips, or the frame of your gun, on a 3 x 5 index card and cutting it out carefully to make a pattern which fits your gun exactly as you wish for the new grips to fit. Mail this template to Tombstone Gun Grips at the address shown on the main menu, and indicate above that you will send a tracing.

This helps assure that the grips selected will fit your gun. If they do not fit your gun, then you may wish to choose another model that will fit it.