This set of grips was patterned from a modern replica and is yet another of the nearly infinite variety of just slightly different shaped curves and sizes with which this particular model of gun seems to be blessed.

As always, there is no way I can tell which exact grip will fit your particular gun. You have to determine that by either measuring and comparing the specs given, or by making a template or a tracing and mailing it to me. Or you can sent the grips you have now, if they fit, and I can make my own tracing...but why risk your grips in the mail, when all you have to do is take them off the gun, sit them on an index card, and run a sharp pencil around the outside, then mark the screw hole by poking a screw through it and indenting the paper?

If you don't have grips that fit your gun properly, cut out a template from index card paper, and make that fit your gun. That will do fine as a gauge.

These grips will accept medallions up to 3/4 inch in the rounded top portion, but generally a 5/8 or smaller medallion will blend into the surface curve better. My coin medallions are formed with a curve to them, which helps them match at the edges, whereas the flat military insignia medallions almost have to be mounted with at least one edge below the surface if the other edges are flush with it.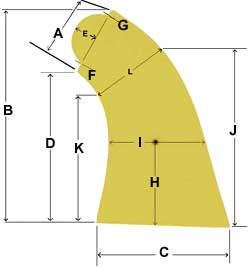 Height of top rear corner (B) = 3.125 inch
Height of top front corner (D) = 2.20 inch
Width across top corners (A) = 1.06 inch
Width of front and rear steps (F) and (G) = 0.13 inch
Height of round top edge above line between corners (E) = 0.25 inch
Width across the base (C) = 2.18 inch
Width across screw hole center (I) = 1.56 inch
Height of screw hole center (H) = 1.06 inch