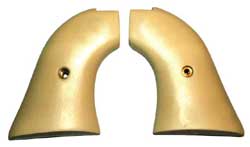 The Heritage Rough Rider 22/32 caliber frame is a scaled down version of a Colt Single Action (more or less). The grips have a notched top near the hammer, and are smaller than standard big bore single action frames. The company also makes this gun in .17 caliber with the same frame. This is not the same size grip as their Pietta-component large bore revolvers.

Please note that there is a slightly taller grip for later model guns, and the Colt Frontier Scout, which looks similar but is just a wee bit longer in the frame. If you do not send a pencil tracing to match, be sure you measure and compare your gun to this over-all height carefully, and purchase the correct version for your gun.

The grips can be sanded to fit most vintages of the Heritage "Plow Handle" grip frames.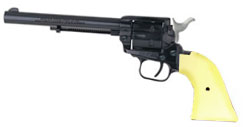 Dimensions:
Width across base: 2.1 inches
Height to base: 3.1 inches
Width from center of front vertical to rear edge: 1.6 inch
Height of front vertical edge: .8 inch
Height of screw hole center: 1.5 inch
Width across screw hole center: 1.5 inch
Depth of the top notch (vertical): 0.15 inch
Width of the top notch (horizontal): 0.5 inch