This is a 3-piece kit, which you will need to fit to your gun, and to match each section together, fit the spacer and sand its width, and epoxy the spacer to the back of one grip, then align the other using the steel pins provided.

I call it a one-piece kit, because it replaces a one-piece grip, but it is designed to be removed as two panels, one of which is secured to a spacer and the other aligning on pins put into both the spacer and matching holes in the panel. These are LARGE grips, same as the original wooden grips. The gun is a 22 caliber, top break, double action. It usually has a sort of "coke bottle" shaped grip, but some were fitted with a different frame and used this big grip instread.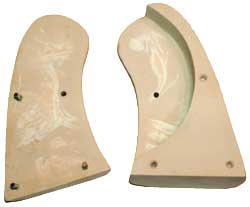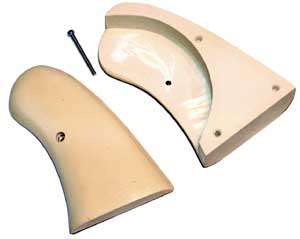 I would consider this an "advanced" kit, since it does require more fitting than usual. You need sandpaper, a Dremel tool, and a drill (you can use the Dremel) plus five-minute epoxy to secure the spacer to one panel.

The Sportsman target-style grip sometimes was fastened by means of a single screw at an angle through the back, and if you wish, you can order this grip without the mounting screw hole and hardware installed, so that you can drill the angled hole in the proper spot, through the rear of the spacer, and use the screw that comes with the gun to mount this grip.

But you can also mount the grip with two halves, like a clam shell, using the single screw, and use one of the extra alignment pins provided to make sure the grip is held firmly between the inside of the spacer and this pin (which you would locate and install after fitting the grip to the frame).

I only offer this because it is so difficult to find anywhere else, not because I think most people will want to fit it or even have the required patience to do so. It isn't hard to fit, but it takes a little time and careful sanding, plus a bit of mechanical aptitude to put the pins in the right place so they keep the grip from moving. If you have made grips from pieces of wood and they came out OK, then you won't find this difficult. But if you have never done any wood work or are not fairly good with hand tools, this isn't for you. Get a stockmaker or gunsmith to do the work for you instead. I'll be glad to help by email if something isn't clear.

Of course, I'm counting on YOU to make sure that this grip actually is what you need for your gun. Don't order it just because you have an H&R Sportsman model revolver! There are a number of different grip frames used on these H&R pistols, and they do not all take the same grips. Check the measurements against your gun, making sure the mounting method will work, before ordering. If in doubt, send me a tracing or template, or email me and let me know if you want to send the original grips for comparision. I'll be glad to do whatever it takes to avoid ordering the wrong kind of grips.