This is essentially an elongated version of the H&R no.23 model grip. Be sure to check your gun and make sure whether it is suitable for grip No.23 or No.132a. The dimensions given on each listing will tell you. If in doubt, send a pencil tracing around your grips. I can then send you whichever one fits best.

Please note that some models of the H&R revolvers use two separate grip screws, threaded into the grip frame. Please select the correct mounting method for your version of this model: there are different mounting systems used on the same model, so we can't go by the model alone. If you want to use your existing hardware check the box that says "none" and you can make the holes when you get the grips, to fit your own screws.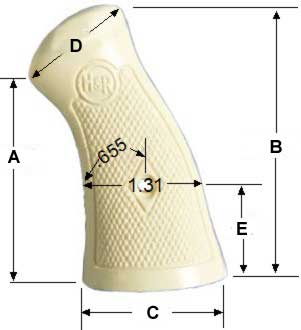 This grip may also fit the model 732 and the Model 929, and possibly other H&R models. Here are the dimensions:

Over-all height from base 90-degrees to rear corner = 3.25 inches (B)
Width across bulb at the top = 1.25 inches (D)
Height from extended base line to front top corner = 2.5 inches (A)
Width across the base = 1.6875 inches (C)
Height to screw hole = 1.25 inches (E)
Width across narrowest portion = 1 inch


Please note that many H&R solid frame revolvers were put together with a variety of grip frames, sharing the same size and shape of grip as other model at times. There is no way to tell exactly which grip size, shape, and method of attachment any given model might have without examining the gun. Since YOU have the gun in your hand, and I don't, I have to rely upon YOU to check carefully and make SURE you order the proper shape, method of mounting, and size. The grip you order is shown on the page from which you order it. Look at the picture, check the specs, and then if that doesn't match your gun, don't order it!

Ordering a square butt grip with a side to side mounting screw as shown, but adding a note that your gun uses a different style or shape, will not work. Find the proper grip listing to order. If you don't find it here, I don't have it. I may be able to make it, but would need an original set of grips in good condition to create a mold first.