This is a smooth version of the FEG PA-63 .380 ACP grips. The gun is similar to a Walther PPK in general design but is not a direct copy. The grips are shown with the Pure White solid color option in the image. The base price is for natural ivory color. Click the solid color drop-down list box for solid colors, or set it to pearl effects and then use the pearl effects drop-down list. Don't select both a solid color and a pearl or translucent effect at the same time, as they are mutually exclusive.

The grips are secured by a single screw, provided. To keep them from rotating about the screw, a spacer is provided for you to sand lightly and fit into the grip frame cut-out, and then epoxy glue to the grip back. Dimensions are given on the listing for the FEG PA-63 factory grip, except this set is thicker and more hand filling.

Smooth surfaced grips display pearl effects to much better advantage than checkered ones. Checkering tends to obscure the depth and figure, and make pearl effects look less striking than a smooth grip.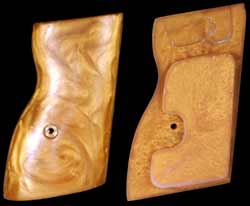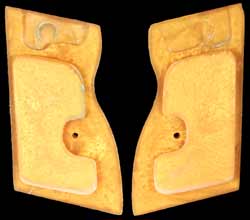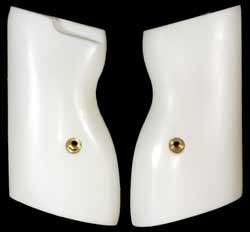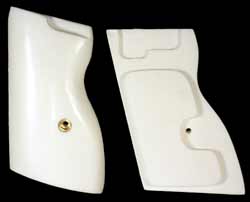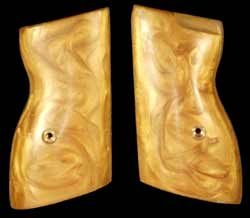 Above are examples in Pure White and in Aztec Gold pearl effect, showing the spacer attached to the back of one grip panel.