This grip is made for the Freedom Arms Model 1997 (M97) small frame revolver. Be sure to compare your gun with the measurements provided here, and make sure you are ordering a grip that has enough material to fit! I also have a grip for the M83, which is larger.

Please note that Freedom Arms custom fits their grips to each gun, and you will need to do the same. The back of these grips is solid and flat. You will need to use a Moto-tool or similar to remove material at the top, to clear the frame. This is not difficult to do. It just requires a bit of trial and error type fitting, going slowly to assure a perfect fit. Remove a little, try it, remove a little more, and when it fits right, stop!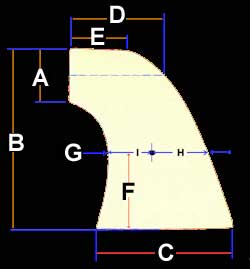 Here are the size specs:
Front edge (A) = 0.872 inches
Overall height (B) = 3.18 inches
Width of base (C) = 1.8 inches
Midpoint of front edge to rear edge (D) = 1.64 inches
Width of flat at top (E) = 1.012 inches
Height of screw hole center = 1.47 inches
Width of grip at screw hole center = 1.175 inches
Rear edge to screw hole center = 0.71 inches


Here is a picture of the back of the grip, the way you will receive it. There is a notch or clearance required on the top front of the back. Use your existing grips as a guide, or lightly "paint" the edges of the gun frame with a Magic Marker and press the grip against the frame to mark the places where you need to remove material on the grip. A flat-end burr in a Moto-Tool works great for this.