This is a 1-piece (3 part kit) grip for the Uberti made, Navy Arms imported 1873 Colt Single Action Army model, this set copied from a 32-20 caliber model. It is slightly larger than the similar 116a model, so measure and see which will fit your gun best.

The grip comes standard with a spacer and two panels, which you fit to your gun and then epoxy glue the spacer to the backs to create a 1-piece grip. You can also order the grip as a 2-piece, screw mount version if you prefer.

The upper section of this grip is relatively narrow. It does not provide enough area for the larger medallions (3/4-in, 20mm, etc.) but works nicely with the 11/16, 5/8, 1/2 inch and so forth. The list of medallions provided leaves out the larger ones for that reason. It is possible to mount a larger medallion in the lower section, where your hand wraps around. Some people like this, some do not. I don't list the option but you can email and let me know. I can jsut add it manually add a larger medallion to your order, and put it in the lower portion of the grip.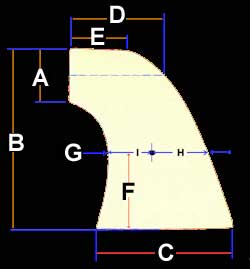 Overall height (B) = 3.2 inches
Length of front (A) = 0.9 inches
Width of base (C) = 2.2 inches
Center of front to rear edge (D) = 1.6 inches
Width of top flat (E) = 1.1 inches
Thickness at top = 0.3 inches
Thickness at base = 0.519 inches
Width at 1.5 inches from base = 1.45 inches
Width at narrow part of the neck = 1.2 inches
The checkering is unusual, large diamond patterns well formed and deep. It is a good grip for cold weather and rain.