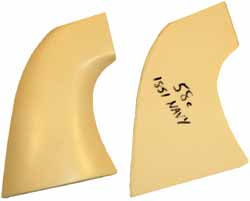 This is the 1851 Colt Navy model (36 cal) revolver grip, made with a slightly shorter top section than the 58a. It has just slightly different dimensions from the 58a model, which may fit your particular version better. Be sure to compare dimensions, and only order one that is as large or larger in all direcctions compared to your gun frame or existing grips.

When in doubt, always make a tracing around your existing grips or cut out an index card template that fits your gun frame just the way you want the new grips to fit. Mail that to me, and indicate above with the check box that you are sending a tracing (or template) so I will wait for it.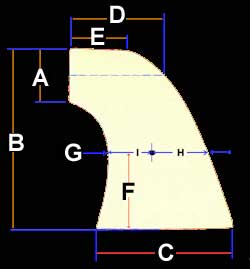 Front edge of grip, height (A) = 0.95 inches
Overall height of grip (B) = 3.2 inches
Width of the base (C) = 2.4 inches
Centerline of front edge to rear edge (D) = 1.7 inches
Flat across the top (E) = 1.05 inches
Note:
If you want a screw-mounted grip, be sure to check the appropriate choice above for a 2-piece, screw mount. If you want the original 1-piece style, then order the 1-piece kit which comes as two panels and a spacer (3 pieces). If you want a screw mount style, send a tracing showing the screw location desired. If you do NOT send a tracing, but indicate you want the screw mount kit installed, then the location will be the same as a 1st generation Colt 1873. This may or may not interfere with the hammer spring on your gun, depending on exactly where it is located in your particular clone. It's up to you if you want to take the chance or send a tracing to make sure.