The 28b Colt Frontier SAA Stag grips are made to fit earlier clones of 1873 Colt Single Action revolvers but there is a lot of variation in the models. To see if it fits your gun, make a pencil tracing of your existing grips and mail it to me. I will compare it with the mold and make sure it fits before you order!

This is very similar to the 129b Colt SAA Stag 2pc grip. The main difference is in the amount and depth of the stag effect. Dimensions are nearly identical (with a small amount of sanding they are identical).

Do not confuse this Frontier SAA model with the Frontier Scout 22, which is a different grip entirely. It has a notch at the top, for one thing.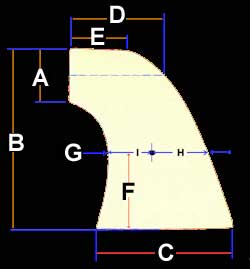 Specifications:
(A) Vertical front = 0.9 inch
(B) Overall height = 3.0 inch
(C) Width of base = 2.1 inch
(D) Mid-point of front to rear edge = 1.6 inch
(E) Flat on top = 1.0 inch