This is another variation of the Colt Police Positive Special with square butt, this time with a 1.9-inch wide flat base extended below the approximately 1.68-inch wide frame of the gun with a 0.7 inch high spacer.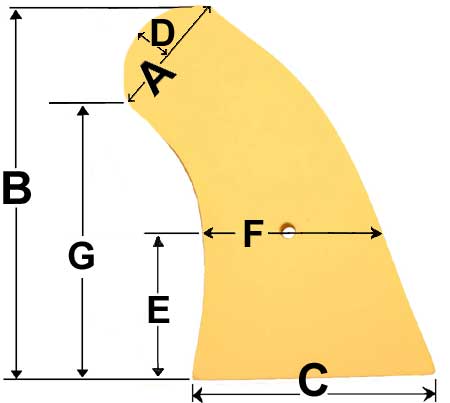 The grip measurements are:
Overall height to base (B) = 3.1 inches
Width across base (C) = 1.9 inches
Width across top (A) = 1.0 inches
Height of top curve (D) = 0.3 inches
Width across screw hole (F) = 1.4 inches
Screw hole center to front edge = 0.55 inches
Height to front top "corner" (G) = 2.5 inches
Base of gun frame to grip base = 0.7 inches
Height from base to screw hole center (E) = 1.4 inches
This grip is slightly oversized so you can sand it to exact fit before fitting the spacer and using epoxy cement to secure the spacer to one grip panel. The spacer has two screw holes which can be used to fasten the spacer to one panel either instead of epoxy glue or in addition. Or two small dowel or roll pins can be mounted in the spacer and shallow holes made to match in the opposing grip back, so that the spacer and both grip panels can be removed and reassembled with a rigid and secure position. Small pins are provided, in case you wish to make appropriate matching holes and use them for additional strength. However, epoxy glue of the standard 5-minute two-part mix variety, which can be found at any hardware store, usually works just fine provided you clean the mating surfaces well to remove all grease, wax, and fingerprints, and follow directions for mixing the cement.

This is a rather easy kit to fit and finish, but it does require sanding the grip edges and space to "blend" them once you have the grip panels fitted to the gun frame and the locating pin hole drilled to match the pin projecting from your gun frame (it may vary slightly from one gun to another -- mark the tip with "magic Marker" ink, and press the grip panel to the gun to transfer a "dot", indicating where to make the alignment pin hole.