Designed by Richard Burgess, this oversized set of grips for the Bond "Snake Slayer" derringer provides a larger and more comfortable handle on the recoil of .410 shotgun or .45 Long Colt cartridges.

The grip kit is sent as five parts plus a grip screw, with the ferrule and nut installed. The five parts are the two grip panels, two thin spacers which you align and epoxy glue to the inside of both panels, and a thick spacer which you epoxy to one panel, and make two small alignment holes in the back of the other panel to match two small steel pins (provided) that keep the assembly snug.

The spacer is made larger so you can sand the edges to exact fit, and then sand the thickness to a perfect match for your particular gun frame. It is larger than the grip and will of course need to be "feathered" at the edges to blend nicely with the edge of the grip, and with the start of the metal frame at both ends.

Here are the grip dimensions:
Overall height, top to base = 3.7 inches
Width across grip screw, parallel to base = 1.76 inches
Width across base (flat) = 1.46 inches
Finger groove width at base = .657 inches
Width from top of finger groove to rear edge, parallel to base = 2.056 inches
Screw hole to front edge = .60 inches
Grip panel thickness above screw hole = 0.92 inches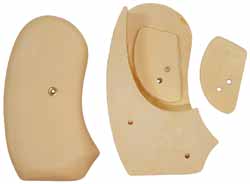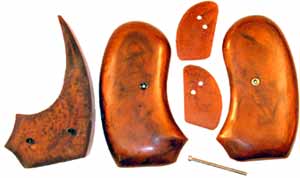 The illustrations show the "Amber burl" pearl effect, which has a translucent depth and sparkle from embedded gold dust, bronze and atomized copper, but looks very much like a rare wood. Like all Tombstone grips, it is made from high strength, high temp polyurethane resin -- not wood! The ivory shaded illustrations are of an extra aged ivory, which shows the mottle pattern more clearly on the back and spacers.