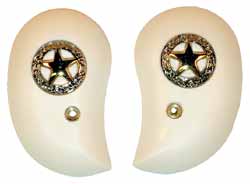 The Bond Derringer grip kit has four components plus a screw which goes through the grip. Make sure your model uses a screw that goes through, not two separate screws threaded into the frame.

The back of the grips uses a raised portion to keep the grip from turning. This kit uses two separate spacers and two grip panels, so you can first sand the two panel backs to adjust thickness to your liking, and then epoxy glue the two spacers on the back, after sanding them to match the inside of the gun's frame. They are close, but made slightly oversize to allow for variations in manufacturing of the gun.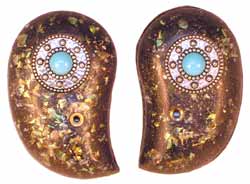 Ordinary 5-minute epoxy that comes in a dispenser double- tube with two liquids works great to permanently secure the spacers on the back of the grips. It is easy to put this kit together and fit it precisely to your gun for a custom "gunsmith" fit and appearance...all you need is 120-160 grit abrasive paper, a medium grit fingernail sanding stick (foam-core type), and 5-minute epoxy.

The dimensions are a bit hard to specify since the grip is all curves. But the distance from the pointed end to the maximum distance at the top curve is 2.375 inches. The widest part of the top curved area is 1.46 inches across, and a line parallel to that across the screw hole is 1.275 from edge to edge. the screw hole is .926 inches form the point, and if you draw a 90-degree angle to that line at the screw hole center, the other leg of the 90-degree angle would be .787 inches long to the back or convex edge.