This is similar in size to the 124b grooved grips, but are made smooth, to enhance pearl and set off medallions better.

Ballester-Mollina is a South American brand made for military and police use, and also in a 22 caliber training pistol with the same grip frame as the .45.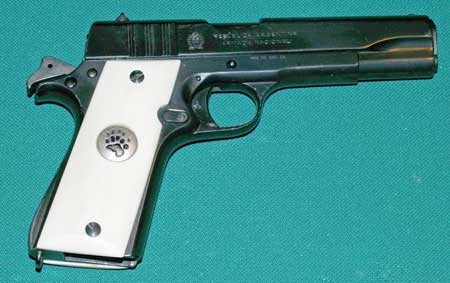 The most critical measurement is the hole to hole center spacing. Please measure the distance between the centers of the two screw holes and enter the number above. It should be about 3.25 inches (3-1/4 inch) but different versions or years of manufacture MIGHT have other spacing. If you give me accurate spacing measurement then I can provide you with grips that fit. Saves a lot of time doing it a second time, sending the first ones back, and so forth!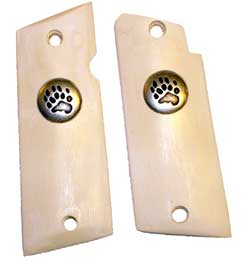 If you leave the "hole spacing" blank, then I'll assume 3-1/4 inches is right. Otherwise, I can drill the holes where they ought to be for YOUR gun, rather than the standard model gun.