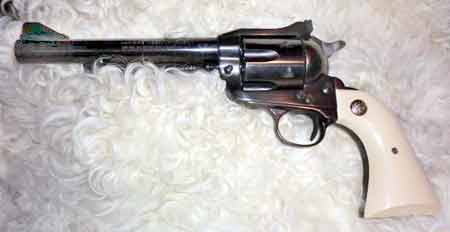 This grip kit is for the Herter revolvers such as the 401 PowerMag, the 44 Magnum, and similar models that used the same size grip frame. Herter revolvers were made in Germany by the J.P. Sauer & Sohn gun-making firm, which also made Great Western, Hawes, and many other import brand names.

Be sure to send a pencil tracing around your existing grips by placing them on a 3x5 index card and running a sharp pencil around the edges. Mark the screw hole. Mail the tracing to me so I can make sure the grip you choose actually works with your gun. Or if you want to assume the responsibility for the fit, just compare these measurements with your gun frame. If the measurements are the same or larger for this grip, you can fit it to your gun. If any measurement is smaller than your gun, the grip won't fit and can't be made to fit, so don't order it!

Send your tracing to the only mailing address I list on this website, which is shown on the main page and the contact page (among other places). It is the same address I use on all my emails, letters, and faxes: PO Box 2171, White City, OR 97503 USA.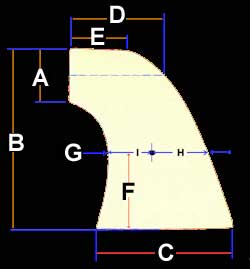 Length of front edge (a) = 1-inch
Overall height (B) = 3.7 inches
Width of base (flat portion) (c) = 2.3 inches
Length of bottom angled flat = 0.3 inches
Midpoint of front to rear edge (d) = 1.7 inches
Width of top flat (e) = 1.1 inches
Height of screw hole = 2.1 inches
Width across screw hole = 1.5 inches
Screw hole center to rear edge = 0.8 inches
Width across narrowest part of the neck = 1.3 inches